Landscaping in Garland, TX

Having a beautiful landscape adorning your property is a pride and joy. These take time and effort to accomplish, but when you pass by those marvelous exteriors, you know it is 100% worth it. Do you want to hear some great news? You can get premium results easily, as we know the best experts for that.
No matter the style you prefer, the plants you choose, or the elements you decide to incorporate in your yard, you can always have and maintain a gorgeous landscape with professional landscaping in Garland, TX. Where can you find that? You just did it here, at Guerrero Landscaping.
From planning and designing to large-scale projects, we do it all. Explore our convenient solutions and choose the best ones for you below!
Landscaping
Every property can have a beautiful landscape, but all of them shouldn't be the same. The best landscape is ultimately the one that works for your needs and preferences. Through our extensive knowledge and excellent customer attention, you can get customized landscaping in Garland, TX, that genuinely suits your requirements. Our solutions include: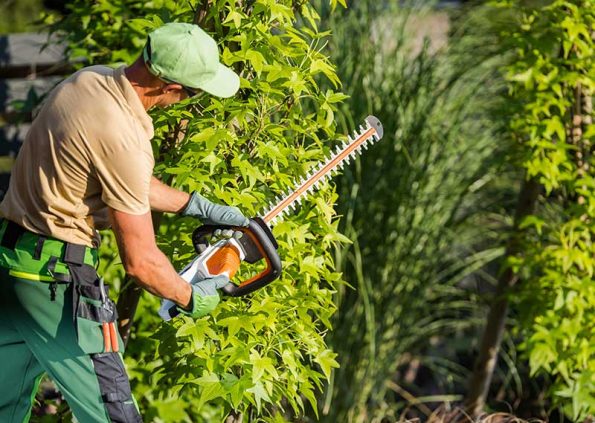 Tree Services
Tree care is a science, one that many properties across Garland require. Whether for safety or aesthetic purposes, we provide tailored tree services, prioritizing what you want while balancing your necessities into one seamless solution. Our services cover the full spectrum, including:
Hardscaping
Hardscape features are definitely something you don't want to miss in your yard. Not only can they complement your landscape or vice versa, but they also give a plus to your property when it comes to value. However, if built incorrectly, it can have adverse effects, which would mean wasting your hard-earned money. Working with our hardscaping contractors ensures the best outcome. Here are some of the projects they can create:
Fencing
A finishing and essential touch for every property with a landscape they want to preserve is definitely a perk. Not only does it protect your perimeters, but it also has some other perks, such as privacy. With the right person at the job, they could also perfectly complement your property and landscape, which is why, with our outstanding solution, we cover fence installation for two following types:
All landscaping services combined will supply everything you need to create a landscape. Furthermore, with each of our high-quality solutions, you get even more benefits, making the best choice for landscaping in Garland, TX. These benefits are the following:
10 years of experience
Quality Materials & Products
Design-Build Approach
Financing Options
Ready to turn your outdoor dreams into reality? Our expertise, commitment to quality, innovative approach, and flexible financing options for landscaping in Garland, TX, are at your disposal to take on any residential and commercial projects. From concept to completion, enjoy quality throughout the whole experience. Start with a free estimate today!